Marine Diving web Informaion for Diving in ITO
ITO DIVING SERVICE BOMMIE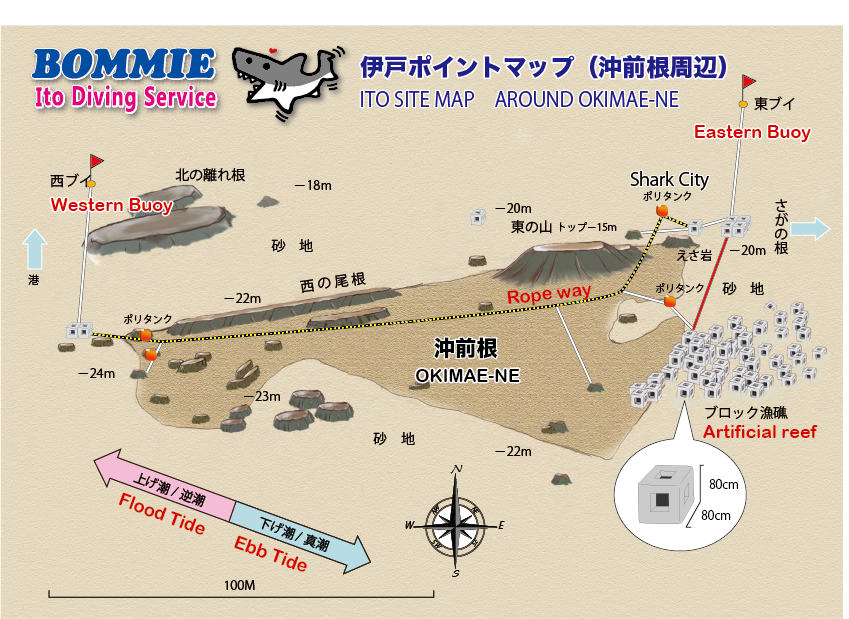 Dive site features around Okimae-ne
A Eastern buoy site (Shark City)
・Maximum depth= 21m
・Marine life found at Eastern buoy: Large schools of stingray,
hundreds of banded houndsharks, large longtooth groupers measuring over 1m long,
and Asian sheepshead wrasses.
​
B Western buoy site
・Maximum depth= 24m
・Marine life found at Western buoy: Various types of soft coral,
sea anemones, and other species of coelenterate.
Important Notice:
Check list before booking. Please let us know if you answer "no" to any of the questions below.
・Advanced Open Water certification is required.
・Diver must have a minimum of 30 logged dives
・One year must have not passed since your last dive.
・Diver must have boat diving experience .
・Are you able to recover your regulator and also remove & replace your mask without any issues underwater?
・Depending on the day, you may encounter very strong currents at the diving point.
Are you both mentally and physically prepared for this kind of diving?
(You will not get swept away by any currents as long as you don't let go of the drift line when entering and the descent line when descending, but please note that you will experience yourself going against the current.)
・Hound sharks may swim between you and your regulator and cause you to let go of your regulator from your mouth. We require you to calmly recover your regulator by yourself.
・Red stingrays may pull on your mask straps and your mask may come off during diving. We require you to calmly recover  and replace your mask by yourself.
・Required to speak Japanese or English.
・Since we do not carry DIN type scuba tanks, please either bring a regulator that is yoke type or bring your own DIN adaptor.
We do not rent out DIN adaptors and only rent out yoke type regulators.
​
Water temperature
(Celsius degree℃)
Jan. 15-18
Feb.-April 14-16
May 14-19
June 15-20
July 17-24
Aug. 18-27
Sep. 20-27
Oct. 17-25
Nov. 18-22
Dec. 18-20