ITO DIVING SERVICE BOMMIE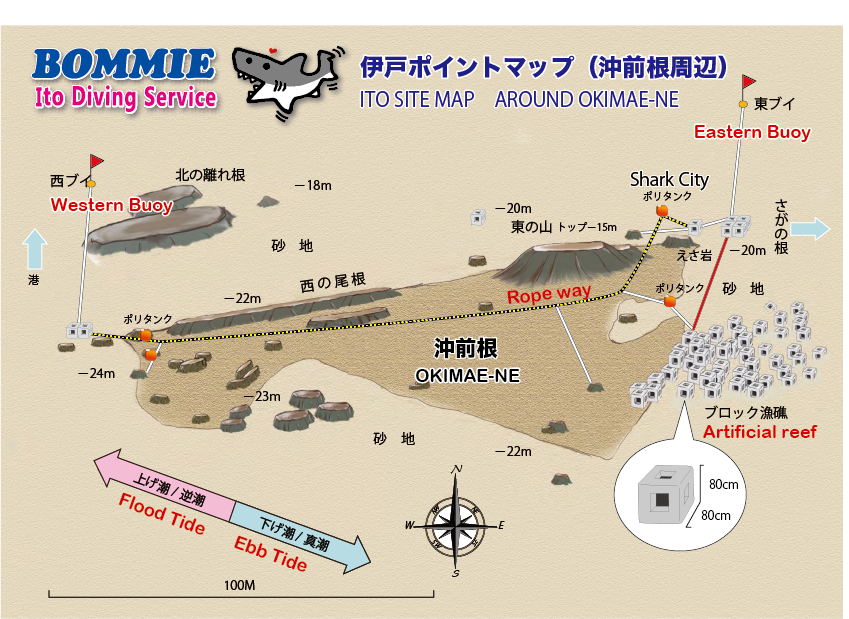 Dive site features around Okimae-ne
A Eastern buoy site (Shark City)
・Maximum depth= 21m
・Marine life found at Eastern buoy: Large schools of stingray,
hundreds of banded houndsharks, large longtooth groupers measuring over 1m long,
and Asian sheepshead wrasses.
​
B Western buoy site
・Maximum depth= 24m
・Marine life found at Western buoy: Various types of soft coral,
sea anemones, and other species of coelenterate.
Important Notice:
​・There might be strong currents depending on the season (especially in Summer) or daily conditions.
・Always use a rope to ascend and descend while diving.
・Required diving experience: at least one dive at a depth deeper than 20m, previous boat diving experience.
Water temperature
(Celsius degree℃)
Jan. 15-18
Feb.-April 14-16
May 14-19
June 15-20
July 17-24
Aug. 18-27
Sep. 20-27
Oct. 17-25
Nov. 18-22
Dec. 18-20